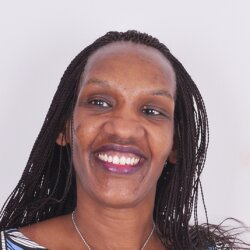 Annoncita Batamuriza
Associate
Product Development Strategies
,
Product Audits
,
Diagnosis & Planning
,
Feasibility Assessments
,
Operational Audits
,
Product Development
,
Prospectus and Investor Procurement
,
Feasibility Studies
,
Destination Management Plans
,
Product Development – Nature-based
,
Strategic Tourism Plans
,
Business and Marketing Plans
,
Site Master Plans
Annoncita (Anny) joined SMA Tourism in 2020 to develop religious tourism in Rwanda and is based in Rwanda. She has 22 years' experience in tourism development and tourism marketing in Rwanda. Her tourism career evolved from managerial positions in international hotels, to that of a part time consultant for hotels and government and full-time manager of a Rwandan niche tourism operations company. Her consulting experience includes working with Horwath HTL Rwanda and the Rwanda Development Board. In this capacity, some key project highlights have included an Adventure Tourism Master Plan for Rwanda, Feasibility study and development of a four-star hotel (Dmall Hotel) in Kilgali Rwanda, and Sub-Master Plans for the eastern and western regions of Rwanda, and along the southern Heritage Corridor.
Anny is the Chief Executive Officer of New Dawn Associates, an ecotourism and community-based tourism operation delivering, among many products, gorilla trekking and gorilla safaris. This experience provides the pragmatic expertise and a wealth of industry contacts.
Anny speaks Swahili Kinyarwanda (native language), English, German and five other local Ugandan languages.
Specialties
Business development, Capacity building, Consultation & engagement, Hospitality management, Hotel management, Master plans, Product audits, Product development, Training