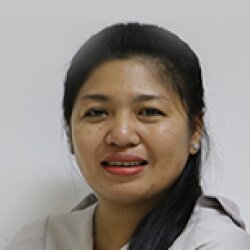 Marta Saya
Associate
Marta joined SMA Tourism in 2020 and is based in Cambodia. She holds a Bachelor of Arts and Tourism Management and studies from the Royal University of Phnom Penh. She has 12 years' experience in tourism planning, stakeholder coordination, tourism development and strategic planning.
She has a strong knowledge of the tourism sector in Cambodia, and a good understanding of the application of development aid in the country.
She is currently national tourism expert for the Ministry of Tourism of Cambodia on the AFD funded Tourism Commercial Capacity Building Programme. Working with SNV Netherlands Development Organisation and Ministry of Tourism, she has undertaken significant regional and ecotourism planning for north-eastern Cambodia.
Marta is also a highly experienced trainer, being the lead master trainer for rural tourism skill development projects, an ecotourism project in Cardamom Mountain of Cambodia, and Master Trainer and Advisor for high impact tourism training for the Cambodia Restaurant Association.
Marta speaks Khmer (native language) and fluent English.
Specialties
Capacity building, Tourism planning, Training