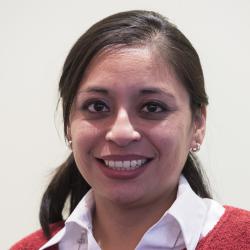 Daysy Angeles
Associate
Product Development Strategies
,
Diagnosis & Planning
,
Product Audits
,
Product Development – Cultural
,
Product Development
,
Product Development – Nature-based
,
Feasibility Studies
,
Prospectus and Investor Procurement
,
Destination Management Plans
,
Strategic Tourism Plans
,
Site Master Plans
,
Visitor Management Plans
,
Interpretation Plans
,
Management Plans
Daysy started working with SMA Tourism as an Associate in 2019, including the development of a Nature Tourism Strategy and investment prospectus for the Colombian region of Narino. Daysy has 15 years of experience as a tourism manager, designing, planning and managing tourism projects. She has led project teams at a National level in Peru and has experience in leading multi-sectorial and multicultural teams. Daysy has worked in private and public organisations such as Condor Travel, Caritas del Peru and SERNANP (National Service of Natural Protected Areas), in rural development and conservation of natural protected areas.
Daysy is particularly renown for her experience in managing tourism in protected areas. As the Tourism Coordinator for Peru's SERNANP (National Service of Natural Protected Areas), she designed and implemented tourism policies and strategies for sustainable tourism, prepared regulations and guidelines on sustainable tourism and facilitated private and public investment in protected areas.
Daysy has also worked as a facilitator and trainer across ecotourism, nature tourism and interpretation, for organisations such as SERNANP, Condor Travel and Naturalwalks.
Daysy has been an author for many influential publications, including Sustainable Tourism Strategies for Spanish Biosphere Reserves, Sustainable Tourism in the National Protected Areas of in Peru, the Virtual Bulletin "Naturally Latinamerica", and the Tourism Plan for Junin National Reserve and for Tambopata National Reserve.
Daysy speaks Spanish (native language) and fluent English and Italian.
Specialties
Capacity building, Interpretation, Investor procurement, Legislation, Product audits, Product development, Protected area management, Sustainable tourism policy and planning, Tourism planning, Training